TB12: Fact or Fiction – Part 2
Research conducted by graduate students in NUTR 903: Advanced Nutrition and Metabolism at Framingham State University.
The TB12 Method: How to Achieve a Lifetime of Sustained Peak Performance by Tom Brady was published in 2017, and quickly made the New York Times Best Seller list. At 41 years old, the five time Super Bowl champion is still playing strong for the New England Patriots and has attributed his longevity to his stringent diet and exercise plans.
Last month, we reviewed Tom Brady's recommendations for fluids and electrolytes. This month will focus on his recommendation for an alkaline diet. Future entries will highlight Brady's recommendations for consumption of nightshades and dietary supplements.
TB12 Claims and Recommendations: Tom Brady follows a strict nutritional regimen that is made up of 80% alkaline and 20% acidic foods. According to Brady, foods that are acidic cause inflammation and alkaline sources reduce inflammation. Maintaining an 80/20 diet will keep the body properly oxygenated, thus accelerating recovery and healing. TB12 recommends limiting acidifying foods, but never eliminating them all together. This means eating mostly fruits and vegetables, with smaller amounts of lean meat.1
What the science tells us: The term "alkaline diet" involves the idea that certain foods can impact the pH of our body, and that keeping the body "alkaline" is more beneficial. The pH levels in our body are dictated by hydrogen ion concentration and is a process that is tightly controlled.2 The alkaline diet claims to modify pH through consumption of nutritional non-volatile acids and bases. Animal sources, such as meat, eggs and dairy, are high in acid precursors such as sulfur-containing amino acids. Fruits and vegetables release alkaline precursors, such as potassium citrate, when metabolized.3 Although urinary pH may be influenced by nutritional intake, blood pH remains mostly unaffected by diet, as our physiologic buffer systems work to resist fluctuations in pH.2 Research has shown that there is no significant difference in the blood pH of participants consuming high acid compared to high alkaline foods.4 To increase alkalinity of the blood by 0.2 units, an intake of approximately 18 pounds of oranges would be necessary, and to increase acidity by the same amount, one would need to ingest 4.5 pounds of beef in one sitting.5 It is unlikely that either extreme would be feasible on a regular basis to maintain this shift in pH.
Conclusion: Although there is lack of research to support a strict 80% alkaline/20% acid diet plan, research shows that diets rich in a variety of fruits and vegetables can protect against inflammation and provide other health benefits.6 The USDA Dietary Guidelines recognize that a plant based diet may be beneficial in the prevention and treatment of chronic diseases.7 The recommendations made by TB12 for an alkaline diet are consistent with these recommendations, simply because an "alkaline diet" is rich in fruits and vegetables.
References:
1) Brady T. The TB12 Method : How to Achieve a Lifetime of Sustained Peak Performance. New York : Simon & Schuster, 2017.
2) Gropper SS, Smith JL, Carr TP. Advanced Nutrition and Human Metabolism. 7th ed. Boston, MA: Cengage Learning; 2018.
3) The Alkaline Diet: Is There Evidence That an Alkaline pH Diet Benefits Health? Gerry K. Schwalfenberg. J Environ Public Health. 2012; 2012: 727630.
4) Bischoff F, Sansum WD, Long L, Dewar MM. The Effect of Acid Ash and Alkaline Ash Foodstuffs on the Acid-Base Equilibrium of Man. The Journal of Nutrition. 1934; 7(1):51-65.
5) Tobey J. The Question of Acid and Alkali Forming Foods. American Journal of Public Health. 1936; 26: 1113-1116.
6) Tuso P, Stoll SR, Li WW. A plant-based diet, atherogenesis, and coronary artery disease prevention. Perm J. 2015;19(1):62-7.
7) U.S. Department of Agriculture. ChooseMyPlate.gov Website. Washington, DC. MyPlate. www.choosemyplate.govMyPlate.html. Accessed January 6, 2019.
---
ANCE 2019 Registration is OPEN!
Please join us for our annual conference at The Four Points Sheraton, Norwood. To register for the event, please go to:  http://eatrightma.org/ance/attendee.cfm
To download a copy of the flyer, please click here
We look forward to seeing many of you on Friday, March 29th for a fun and educational day.
---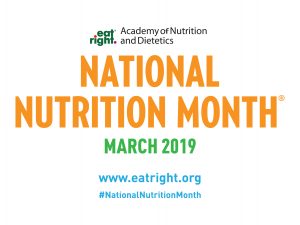 Each March, the Academy celebrates National Nutrition Month®, an annual education and information campaign that helps people make informed food choices, develop sound eating and physical activity habits and use the expertise of registered dietitian nutritionists and nutrition and dietetics technicians, registered.
---
Blog Deadline
Topic Consideration Deadline:  Last day of each month
Approved Articles due by:  15th of the month
Please send all submissions to: Christina Ypsilantis and Laura Kim, editors of Today@MAND: newsletter@eatrightma.org.
Any Academy member, no matter their state of residency, can select MAND as their affiliate association. We welcome members from all locations! MAND members who have chosen another affiliate state may inquire about how to become a Massachusetts Academy of Nutrition and Dietetics Supporter Member and start receiving all MAND benefits by e-mailing MAND's Administrative Director, Maureen Kelly Gonsalves, MEd, RD, at admin@eatrightma.org.