ANCE is in 2 weeks, have you registered?
Please join us for our annual conference at The Four Points Sheraton, Norwood. To register for the event, please go to:  http://eatrightma.org/ance/attendee.cfm
To download a copy of the flyer, please click here
We look forward to seeing many of you on Friday, March 29th for a fun and educational day.
---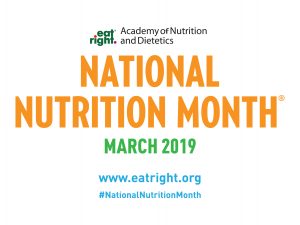 Happy National Nutrition Month® to our fellow RDs!! Each March, the Academy celebrates National Nutrition Month®, an annual education and information campaign that helps people make informed food choices, develop sound eating and physical activity habits and use the expertise of registered dietitian nutritionists and nutrition and dietetics technicians, registered. What are you doing to celebrate? Share your Nutrition Month stories with us at: newsletter@eatrightma.org
---
TB12:Fact or Fiction – Part 3
Research conducted by graduate students in NUTR 903: Advanced Nutrition and Metabolism at Framingham State University.
The TB12 Method: How to Achieve a Lifetime of Sustained Peak Performance by Tom Brady was published in 2017, and quickly made the New York Times Best Seller list. At forty-one years old, the six time Super Bowl champion is still playing strong for the New England Patriots and has attributed his longevity to his stringent diet and exercise plans.
In previous months, we reviewed Tom Brady's recommendations for fluids and an alkaline diet. This month will focus on his recommendation for consumption of nightshades. Next month we will finish this series by reviewing Brady's recommendations for dietary supplements.
TB12 Claims and Recommendations: Brady recommends limiting dark colored plants (nightshades) such as eggplants, tomatoes, strawberries, bell peppers and some mushrooms, as these plants are a source of inflammation. 1 He recognizes that these foods are great sources of antioxidants, however, for someone requiring optimal performance at a very high level, the benefit of the antioxidants does not outweigh the risk of increased inflammation.1
What the science tells us: Nightshades belong to the botanical family called Solanaceae, and contains over 3000 different plants.2 The term Nightshade was developed because these plants grow best in shaded areas. Nightshade vegetables are rich in antioxidants and healthy phytonutrients.3 Contrary to the recommendation made by TB12, consumption of nightshades, along with other fruits and vegetables, has consistently been shown to have a favorable impact on inflammation and is associated with a decreased risk for many chronic diseases. For example, consumption of tomatoes has been associated with a decreased risk of breast and prostate cancer, and an improvement in markers of cardiovascular disease.4 In addition, providing purple sweet potato to mice was shown to protect tissues from oxidative damage and also had a suppressive effect on the inflammatory response.5 One would be hard-pressed to find research showing increased inflammation in response to the vegetable nightshades commonly consumed, such as tomatoes and peppers.
Conclusion: There is a lack of research to support a pro-inflammatory and negative health effect of consuming a diet rich in nightshades. Nightshades are nutrient dense and an excellent source of antioxidants. A large body of epidemiological research consistently shows positive associations between fruit and vegetable consumption (including nightshades) and health benefits. In vitro research shows nightshades are able to suppress inflammation and scavenge free radicals. Our current dietary guidelines recommend a plant-based diet, rich in color.6 Brady's recommendation to limit nightshades is inconsistent with these recommendations, and, in fact, is contrary to his own recommendation to consume an "alkaline diet" rich in fruits and vegetables.
References:
1) Brady T. The TB12 Method : How to Achieve a Lifetime of Sustained Peak Performance. New York: Simon & Schuster, 2017.
2) Lanier R, Gibson K, Cohen A, Varga M. Effects of Dietary Supplementation with the Solanaceae Plant Alkaloid Anatabine on Joint Pain and Stiffness: Results from an Internet-Based Survey Study. Clin Med Insights Arthritis Musculoskelet Disord. 2013; 6:73-84.
3) Gropper SS, Smith JL, Carr TP. Advanced Nutrition and Human Metabolism. 7 th ed. Boston, MA: Cengage Learning; 2018.
4) Agarwal S, Akkinappally R. Tomato lycopene and its role in human health and chronic diseases. CMAJ. 200;163:739-744.
5) Zhang Z-F, Fan S-H, Zheng Y-L, et al. Purple sweet potato color attenuates oxidative stress and inflammatory response induced by d-galactose in mouse liver. Food and Chemical Toxicology. 2009;47(2):496-501.
6) U.S. Department of Agriculture. ChooseMyPlate.gov Website. Washington, DC. MyPlate. www.choosemyplate.govMyPlate.html. Accessed January 6, 2019.
---
MAND Diversity Committee
MAND's Diversity Committee, co-chaired by Stephanie DiRocco MS, RD, LDN State Professional Recruitment Coordinator (SPRC) and Diversity Liaison and Quynh Tu RD, LDN, CDE, SPRC and Diversity Liaison-Elect, has been providing nutrition education and outreach events in the greater Boston area and in Central MA to increase the diversity within the field of nutrition and dietetics.  MAND dietitians and dietetics students, who represent diverse backgrounds and career paths, have been spending time in classrooms to speak to prospective students about the many opportunities available in the profession and share stories of how they became dietitians or chose to study nutrition.  Students enjoy learning more about nutrition and the tasty treats that inspire their rich minds.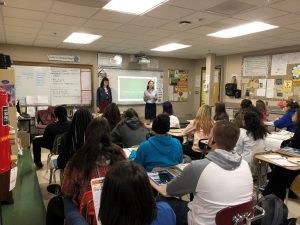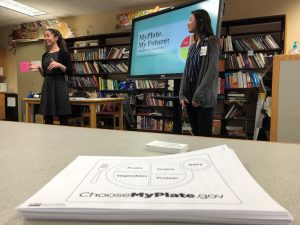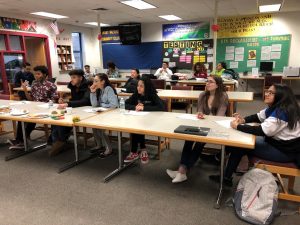 Over the past three years, we have reached over 315 students and have over 45 volunteers.  Several more events in the Boston and Worcester area are planned for this spring.
Testimonial from Allie McNulty, Sodexo Distance Internship, Student Volunteer:
As a dietetic intern, I am fortunate enough to continuously explore the endless opportunities offered by the field. One of the most rewarding experiences thus far has been educating a diverse group of high school students in Leominster, MA about entering the profession and a few basics of nutrition. Many of them had never heard of nutrition as a career, but several were interested in pursuing it by the end of the presentations. This was an incredible feeling to have an impact on students that were sitting where I sat several years ago, contemplating my career direction. Engaging them with a fun activity and free energy ball samples helped to capture their interest for the brief time I had to promote my passion. I found that displaying a genuine interest and optimism for the career was contagious for the audience. Showing all students that they can pursue this fulfilling career is a step towards a fluently multicultural conversation among dietetic professionals. Dietitian diversity has potential to effortlessly increase if we encourage future generations of all backgrounds to cultivate an interest. (2018)
If you are interested in participating in the Diversity Committee or volunteering for outreach events, please contact Stephanie DiRocco at sdirocco@healthalliance.com.
---
Blog Deadline
Topic Consideration Deadline:  Last day of each month
Approved Articles due by:  15th of the month
Please send all submissions to: Christina Ypsilantis and Laura Kim, editors of Today@MAND: newsletter@eatrightma.org.
Any Academy member, no matter their state of residency, can select MAND as their affiliate association. We welcome members from all locations! MAND members who have chosen another affiliate state may inquire about how to become a Massachusetts Academy of Nutrition and Dietetics Supporter Member and start receiving all MAND benefits by e-mailing MAND's Administrative Director, Maureen Kelly Gonsalves, MEd, RD, at admin@eatrightma.org.