What exactly does a HAT Trick in Hockey have to do with Sepsis Therapy?
By Jody Bergeron, RN, BSN, MS, CEN
Hydrocortisone Ascorbic Acid and Thiamine
Sepsis is a physiologic, biologic and biochemical chaotic state reflecting a dysregulated inflammatory response to infection. Sepsis exists on a continuum of severity, ranging from infection and bacteremia to septic shock. Sepsis and the ensuing inflammatory response can lead to multiple organ dysfunction and death, with an in-hospital mortality rate varying from 10-50% (1,2). How can we win the battle against Sepsis and improve survival rates? In hockey we call it a HAT Trick for the win! In clinical sepsis therapy, HAT refers to the combination intravenous therapy of hydrocortisone 50 mg every 6 hours, ascorbic acid (vitamin C) 1500 mg every 6 hours and thiamine 200 mg every 12 hours, synergistically combating the pathophysiology that sepsis and septic shock produce in the human host. (3)
Sepsis Pathology
The expressed insult of sepsis is related to the host's response to the infecting pathogen. The balance of oxidants and antioxidants is vital, as it determines morbidity and mortality. Mechanisms involved in the evolution of sepsis include: immune response to infection, microvascular abnormalities, endothelial dysfunction, nitric oxide overproduction, antioxidant depletion, mitochondrial dysfunction, and decreased ATP concentrations. (4,5,15) Metabolic resuscitation with the HAT therapy addresses this at the cellular level.
Vitamin C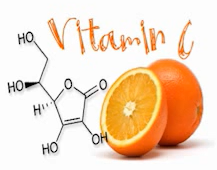 What comes to mind when you think of Vitamin C? Whole foods like Papayas, Cantaloupe, Oranges, Kiwis, Strawberries, Asparagus and Red Peppers are abundant with this water soluble vitamin. (6) Historically speaking, we think of the British sailors and the prevention of Scurvy with citrus oranges, lemons and limes. The RDA of Vitamin C for adult females and males is 75mg and 90mg per day respectively. (6) Metabolic resuscitation for the septic state calls for 6000 mg per day. Oral absorption occurs in the small intestine via Sodium dependent Vitamin C Transporter 1 (SVCT1) with an oral dose between 500-1000mg producing maximal absorption. Ascorbic Acid is released by the adrenal glands. It functions as a cofactor in the synthesis of catecholamines, vasopressin and cortisol. Vitamin C also functions as the primary circulating antioxidant of the body. (2, 10) Humans are unable to synthesize the vitamin due to the lack of gulonolactone oxidase, and therefore rely entirely upon dietary sources. (6,8) Intravenous (IV) Vitamin C therapy switches the vitamin to a drug with pharmacologic concentrations reaching 100-fold higher than those possible with maximal oral dosing. In Dr. Marik's study, patients experienced a more rapid decline in their organ failure scores and the sepsis marker Procalcitonin, and significantly less days requiring medications to support their blood pressure (9).
Thiamine
Thiamine, also known as Vitamin B1, is a water soluble vitamin which was first isolated from rice bran in 1912 by Casmir Funk. Food sources of thiamine include legumes, yeast, sunflower seeds, wheat germ, enriched grain products, soymilk and pork (6). The body stores about 30mg of this vitamin in the metabolic active form thiamine pyrophosphate (TPP). Between 20-70% of septic patients are thiamine deficient (11,21). Consequences of this deficiency include increase production of ROS, neuronal cell death, and energy compromise; thereby compounding the oxidative mitochondrial injury and bioenergetic failure related to vitamin C depletion. (3) To put dosing in perspective, the RDA of thiamine is 1.2mg/day for men and 1.1mg/day for women. Metabolic resuscitation dosing is 200 mg IV twice a day. The thiamine in the cocktail also serves as a co-enzyme for the processing of Vitamin C produced glyoxylate, preventing oxalate accumulation and the associated theoretical risk of renal stones.
Hydrocortisone
The Surviving Sepsis Guidelines recommends use of IV hydrocortisone "only when adequate fluid resuscitation and vasopressor therapy are unable to restore hemodynamic stability" (18). In HAT therapy, there is a synergistic effect seen with the combination of ascorbic acid and hydrocortisone, with ascorbic acid's anti-oxidant effect restoring glucocorticoid receptor function. Symbiotically, the administration of hydrocortisone increases the expression of the sodium-vitamin C transporter (SVCT2), allowing increased uptake of the plurifunctional ascorbic acid into the cells (19).
HAT Therapy and Future Research
The human cost of sepsis is staggering physically, mentally and financially to patient and family; and emotionally, financially to the healthcare providers and healthcare system respectively. As a clinical Critical-Care nurse, my personal experience and observation with my colleagues, allows me to be very optimistic about this pharmaco-nutrition therapy. Will we win the battle against sepsis and improve survival rates? Major studies are ongoing… In the meantime… 'Marik is past the blue line. He has split the defense. He winds; he shoots, he…'
References
Mayr FB, Yende S, Angus DC. Epidemiology of severe sepsis. Virulence. 2014; 5(1):4–11. < https://www.ncbi.nlm.nih.gov/pubmed/24335434>
cdc.gov/sepsis/datareports(2016) < https://www.cdc.gov/sepsis/datareports/index.html>
Marik P. E. (2018). Hydrocortisone, Ascorbic Acid and Thiamine (HAT Therapy) for the Treatment of Sepsis. Focus on Ascorbic Acid. Nutrients, 10(11), 1762.  https://www.ncbi.nlm.nih.gov/pmc/articles/PMC6265973/
Daolin, Tang, Rui, Kang, et. al. PAMPs and DAMPs: Signal 0s that Spur Autophagy and Immunity. Immunol Rev. 2012; 249(1) 158-175   https://www.ncbi.nlm.nih.gov/pmc/articles/PMC3662247/
Brealey D, Brand M, Hargreaves I, Heales S, Land J, Smolenski R, et al. Association between mitochondrial dysfunction and severity and outcome of septic shock. Lancet. 2002;360(9328):219–23 < https://www.ncbi.nlm.nih.gov/pubmed/12133657>
Gropper. Sareen. S., Smith, Jack. L., and Groff, James. L. 2009.  Advanced Nutrition and Human Metabolism.  California:  Wadsworth
Douglas, R. M., & Hemilä, H. (2005). Vitamin C for preventing and treating the common cold. PLoS medicine, 2(6), e168–e217. < https://www.ncbi.nlm.nih.gov/pmc/articles/PMC1160577/>
Carr, Anitra C et al. "Ascorbate-dependent vasopressor synthesis: a rationale for vitamin C administration in severe sepsis and septic shock?" Critical care (London, England) vol. 19 418. 27 Nov. 2015 https://www.ncbi.nlm.nih.gov/pmc/articles/PMC4661979/
Marik PE, Khangoora V, Rivera R, Hooper MH, Catravas J. Hydrocortisone, vitamin C and thiamine for the treatment of severe sepsis and septic shock: a retrospective before-after study. Chest. 2017;151(6):1229–38 <https://www.ncbi.nlm.nih.gov/pubmed/27940189>
Heleen M Oudemans-van Straaten, Angelique ME Spoelstra-de Man, Monique C. Vitamin C Revisited. Crit Care. 2014; 18: 460. < https://www.ncbi.nlm.nih.gov/pubmed/25185110>
Mallat J, Lemyze M, Thevenin D. Do not forget to give thiamine to your septic shock patient! J Thorac Dis. 2016; 8(6):1062–6. < https://www.ncbi.nlm.nih.gov/pmc/articles/PMC4885988/>
Donnino MW, et al. Randomized, double-blind, placebo-controlled trial of thiamine as a metabolic resuscitator in septic shock: A pilot study. Crit Care Med 2016; 44:360-367. <https://www.ncbi.nlm.nih.gov/pubmed/26771781>
Holmberg MJ, et al. Thiamine in septic shock patients with alcohol use disorders: An observational pilot study. J Crit Care 2018;43:61-64 <https://www.ncbi.nlm.nih.gov/pubmed/28850930>
Woolum, Jordan A. PharmD; Abner, Erin L. PhD, MPH; et. al.  Effect of Thiamine Administration on Lactate Clearance and Mortality in Patients With Septic Shock. Critical Care Medicine:  November 2018; 46:11 1747-1752 < https://europepmc.org/abstract/med/30028362>
Moskowitz, A., Andersen, L. W., Huang, D. T., Berg, K. M., Grossestreuer, A. V., Marik, P. E., … Donnino, M. W. (2018). Ascorbic acid, corticosteroids, and thiamine in sepsis: a review of the biologic rationale and the present state of clinical evaluation. Critical care (London, England), 22(1), 283. https://www.ncbi.nlm.nih.gov/pmc/articles/PMC6206928/
Venkatesh, Balasubramanian et al (2018). Adjunctive Glucocorticoid Therapy in Patients with Septic Shock. NEJM:378:797-808. < https://www.nejm.org/doi/full/10.1056/NEJMoa1705835>
Sprung CL, Annane D, Keh D, Moreno R, Singer M, Freivogel K, et al. Hydrocortisone therapy for patients with septic shock. N Engl J Med. 2008;358(2):111–24. <https://www.ncbi.nlm.nih.gov/pubmed/18184957>
Rhodes, Andrew et al (2017). Surviving Sepsis Campaign: International Guidelines for Management of Sepsis and Septic Shock: 2016. Critical Care Medicine: 45 (3): 486-552 <https://www.ncbi.nlm.nih.gov/pubmed/28098591>
Okamoto,K et al (1998). Restoration of glucocorticoid receptor function. Biochem Pharmacol: 56(1): 79-8 <https://www.ncbi.nlm.nih.gov/pubmed/9698091>
Kim W-Y, Jo E-J, Eom JS, Mok J, Kim M-H, Kim KU, et al. Combined vitamin C, hydrocortisone, and thiamine therapy for patients with severe pneumonia who were admitted to the intensive care unit: Propensity score-based analysis of a before-after cohort study. J Crit Care. 2018. < https://www.ncbi.nlm.nih.gov/pubmed/30029205>
Depeint F, Bruce WR, Shangari N, et al. Mitochondrial function and toxicity: role of the B vitamin family on mitochondrial energy metabolism. Chem Biol Interact 2006;163:94-112 <https://www.ncbi.nlm.nih.gov/pubmed/16765926>
Jody Bergeron, RN, BSN, MS, CEN, works in critical care for Cape Cod Healthcare. She obtained her Master's in Human Nutrition from the University of Bridgeport and was enrolled at the University of Alabama's College of Human Environmental Sciences Online Dietetics program. She has 30 years of experience working in healthcare with the past 20 years in critical care nursing. She served 9 years in the Army Reserve as a military officer in a Combat Support Hospital as a critical care RN. During her service she was in charge of the weight control program. Instagram: @jody_bergeron Twitter: @BergeronJodyA
---
Planning on applying to Dietetic Internships?
Join us at this year's Dietetic Internship Selection Workshop!
You will hear from internship directors and current dietetic interns, who will discuss their programs, share tips for the application process, and answer any questions you may have. You will also have the opportunity to meet with DI directors one-on-one in our networking sessions. We currently have 15 directors (& counting) from the New England area and beyond!
Where? BU Sargent College: 635 Commonwealth Avenue, Boston, MA 02215
When? Friday, October 18th from 4-7PM
How much? $25 for early bird tickets and $30 for tickets purchased after October 11. Please RSVP and get your tickets online, as we cannot accept cash payments.
Questions? Email msdaadmin@gmail.com!

---
MAND Awards and Honors
Don't miss this honorary opportunity to be recognized or to recognize your colleagues!
Every year, MAND offers multiple opportunities for outstanding members to be recognized in the following categories at ANCE and more:
Outstanding Dietetics Student
Emerging Dietetic Leader
Recognized Young Dietitian of the Year
Outstanding Dietitian of the Year (Annie Galbraith Award)
Why should you apply for an award or nominate a colleague for an award?
Applying for an award is a fantastic way to be recognized for contributions to nutrition and dietetics in Massachusetts. Award honorees are recognized at a ceremony and reception each year during ANCE (MAND's Annual Nutrition Convention and Exhibition), but receiving an award is much more than pure recognition.
The honor of being recognized in one of these categories is something that you will keep with you throughout your entire career in nutrition and dietetics. It is something that can go on your resume, it is a talking point in interviews, and it will always be something that sets you apart from your colleagues. Furthermore if you are new to the field of Dietetics, this can immensely boost your career opportunities and professional image.
The application process is simple. You need to fill out the application, and provide a resume and letters of support. That's it!
The submission deadline for all applications is February 7th, 2020. Please visit the MAND website Scholarships and Awards page for additional information and applications as they become available.
Contact Shelby Burns, Awards Chair, with any additional questions.
---
Blog Deadline
Topic Consideration Deadline: Last day of each month
Approved Articles due by: 15th of the month
Please send all submissions to: Laura Kim and Sierra Parker, editors of Today@MAND: newsletter@eatrightma.org.
Any Academy member, no matter their state of residency, can select MAND as their affiliate association. We welcome members from all locations! MAND members who have chosen another affiliate state may inquire about how to become a Massachusetts Academy of Nutrition and Dietetics Supporter Member and start receiving all MAND benefits by e-mailing MAND's Administrative Director, Maureen Kelly Gonsalves, MEd, RD, at admin@eatrightma.org.