Tomorrow is officially the start of Autumn! While typically this is a time of apple picking, corn mazes, pumpkins, and back to school activities, this fall looks quite different. Some dietitians and students are back in the office or classroom, but most remain virtual for an unforeseen time. This also means that some of our most vulnerable community members are still struggling to obtain many services that dietitians and nutritionists are vital in providing. Shennie Quintanilla, Social Media Manager for MAND, shares how her team is tackling this, and feeding students in Cambridge.
Also, this is the time to think about how you can contribute to the advancement of the dietetics profession. Do you desire to empower others through advocacy and education, and serve your community as a nutrition expert? The nominating committee is recruiting! Keep reading to learn more, and hear Lauren Jalali share her experience as the MAND State Policy Representative.
Feeding Hungry At-Home Students During a Pandemic
School nutrition programs and school food service staff became essential workers overnight at the start of the COVID-19 pandemic when schools shifted from in-person to virtual learning. Fortunately across the nation School Nutrition Heroes responded and dedicated themselves to produce breakfast and lunch for children of families in need.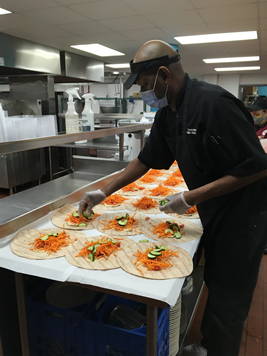 In the City of Cambridge, our food program changed dramatically as we transitioned from National School Lunch Program (NSLP) operation to Summer Food Service Program (SFSP) execution. While some school districts run their summer meals programs through the school food service department, Cambridge had not been responsible for summer programming in over a decade. Flexibility and patience were constantly at the forefront of planning as we communicated with families about the new meal pick up distribution service. After trial and error, our team expanded the menu from cold meals to cook-and-chilled reheat meals for families to reheat at home. Consideration of our community members' needs and diverse cultures was also a key factor in menu planning. We included meals with halal chicken, a daily vegetarian option, and offered allergen-friendly and gluten-free selections throughout the course of the program. Over 67,000 meals were served between mid-March and June in the City of Cambridge!
As summer feeding ended and schools began to reopen for the fall, either virtually or in person, school nutrition staff waited with baited breath for the the USDA to extend the deadline for critical nutrition waivers that would allow reduce the barriers for schools to provide free meals to all children. Thanks in large part to the efforts of the Academy of Nutrition and Dietetics, the School Nutrition Association, and concerned administrators, teachers, and families, the waivers have been extended until December 2020 or until funds run out.
While this is an excellent step, families and children rely on these meals. Take action at the Academy Action Center so all children continue to have access to free and healthy meals through the end of the 2020-2021 school year.
Resources:
https://www.usda.gov/media/press-releases/2020/08/31/usda-extends-free-meals-kids-through-december-31-2020
https://www.fns.usda.gov/sfsp/summer-food-service-program
https://www.cpsd.us/cms/One.aspx?portalId=3042869&pageId=69485013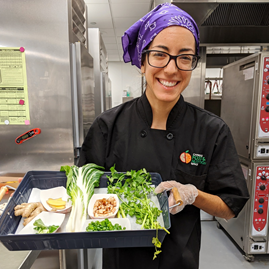 ---
MAND 2021-22 Recruitment
As the Nominating Committee is gearing up for their Call for Nominations, they wanted to highlight one of our MAND Board members, Lauren Jalali, MS, RD, LDN! She is currently serving the last year of her term as the State Policy Representative. The nominating committee had an opportunity to ask Lauren a few questions about the office she holds.
NC: Thank you for serving as MAND's State Policy Representative. What attracted you to this role with MAND?
LJ: Public health has always been an interest of mine because I believe public policy is so important and influential in determining access to health promoting activities, and the overall health of our population.
I wanted to specifically be involved with MAND as part of the Public Policy Panel to help advocate for legislation supported by the Academy and MAND that will promote public health as it relates to nutrition, as well as the professions of RDNs and NDTRs.
NC: What do you believe was most significant success MAND accomplished in the past year regarding state policy?
LJ: This past year, a bill supported by MAND officially passed in to state law: An Act Regarding Breakfast After the Bell. This Act is requires MA schools K through 12 with 60% of more of their students receiving free or reduced price breakfast under the National School Lunch Program to make breakfast available to provide all after the first bell rings (and the school day begins).
There have also been exciting legislation developments with respect to the Food is Medicine initiative in Massachusetts and expansion of telemedicine coverage and reimbursement rates within Massachusetts.
NC: What was the most important thing you learned as the State Policy Representative?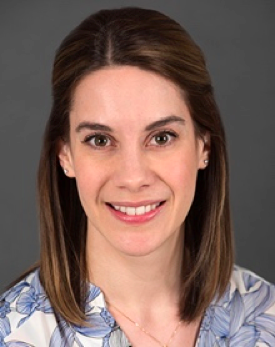 LJ: The most important thing I've learned in this role is how approachable our state senators and state representatives are! Every time I reach out to my area legislators on behalf of MAND, I receive a quick and friendly answer.
NC: What advice would you give to your fellow members who are attracted to a leadership role with MAND but have not volunteered yet?
LJ: Reach out and ask someone who is involved with MAND! Our board members are very approachable and the best way to learn about getting involved is to ask questions. ​
Thank you Lauren for allowing us to share your insight with our members. We are grateful to your efforts and advocacy!
Each fall, the Nominating Committee recruits a slate of candidates to run for office as required by the MAND By-laws. The Nominating Committee consisting of three (3) members representing, as well as possible, all geographical sections of the State. If you are interested in learning more about offices in the MAND Board including the State Policy Representative, please contact the nominating committee, nominating@eatrightma.org.
Open Positions for 2021-2022:
Secretary Elect
Treasurer Elect
Director of Education Elect
Director Elect Member Communications
Director Elect- Socials for Success
Director Elect-Technology
Director Elect-Diversity Liason
Areas and Associations Liaison Elect
Reimbursement Representative Elect
Nominating Committee C-Chair Nominating Committee Member
Nominating Committee Members: Coleen Liscano, MS, RD, CSP, LDN, CNSC, CLE, FAND, Brittany Taylor and Judy Dowd, co-chair and seek to recruit, engage, and maintain a diverse board of directors, which coincides with the organization's strategic plan. The elections take place in March-April.
Massachusetts Academy of Nutrition and Dietetics (MAND) is a state affiliate of the Academy of Nutrition and Dietetics (AND) based in Chicago.
---
Do you want to contribute to the MAND Blog?
Consider writing your own feature article and send your submission to Sierra Parker and Dana Steinmetz, editors of Today@MAND: newsletter@eatrightma.org.
We just ask that it is less than 500 words, and you please submit a photo with a short personal biography to include with the post.
---
Any Academy member, no matter their state of residency, can select MAND as their affiliate association. We welcome members from all locations! MAND members who have chosen another affiliate state may inquire about how to become a Massachusetts Academy of Nutrition and Dietetics Supporter Member and start receiving all MAND benefits by e-mailing MAND's Administrative Director, Maureen Kelly Gonsalves, MEd, RD, at admin@eatrightma.org.