It is difficult to believe that today is the first of October. Time is passing quickly! This week Quynh Tu writes about MAND's Diversity and Inclusion Committee and how they were formed, grew and where they are going. Also Lisa Lombardini shares a great chocolate chip banana bread recipe. Next week consider signing up for Hillary Wright's class, "Beyond "Lose Weight and Exercise": Managing PCOS and Insulin Resistance," or Jessi Haggerty's course on "Intro to HAES and Intuitive Eating."
---
Diversity and Inclusion Over Time at MAND
Diversity Committee of MAND was first established around 2017*. The committee's main goal was to promote and connect Dietetics profession with underrepresented groups by providing community outreach events like high school career fairs, community youth programs, etc. Most outreach events, with the guidance from the Academy's Diversity Strategic Plan: 2015-2020, targeted populations of underrepresented and of diverse backgrounds.
Within the first 3 years and a team of 45 volunteers, the diversity committee had reached over 315, provided mini diversity scholarships to 2-3 students each year, connected with local DPD program directors and participated in some of the diversity mentorship program.
Outreach and activities of the diversity committee was initially initiated around the Boston region, and now has expended north and westward to Worcester County and the City of Worcester. The most recent in-person outreach from the committee was in February 2020 at the South East Asian Coalition Center of Worcester.
With the onset of pandemic in March 2020, the committee had to cancel all six scheduled outreach events with a potential of at least 600 participants.
The Diversity Committee has evolved over time to meet the needs of our members and local communities. We are now the Diversity & Inclusion Committee, and have 16 members. Committee members meet virtually on a monthly basis to review goal settings, listen to new ideas from members, and identify needs and strategies to advance our goals to serve our communities. Subgroups have been established within the committee depending on personal interests and skills.
Diversity & Inclusion Committee is actively seeking new members who are interest in joining our team. We also are seeking feedback from within and outside our MAND communities, so we can continue to improve equality in the dietetics profession. We are committed to encouraging diversity and inclusion by striving to recognize, respect and include differences in ability, age, creed, culture, ethnicity, gender, gender identity, political affiliation, race, religion, sexual orientation, size, and socioeconomic characteristics in the nutrition and dietetics profession.
Please check out our webpage at: https://www.eatrightma.org/page/diversity-equity-and-inclusion
Please also contact current Liaison Quynh Tu at quymemo@gmail.com
*The Diversity Liaison position was established in 2016 within MAND, with the dual responsibility of State Professional Recruitment Coordinator (SPRC) and Diversity Liaison. SPRC & Diversity Liaison then established the Diversity Committee the following year, in 2017.
---
Chocolate Chip Banana Bread
Do you need a great way to use up those ripe bananas? Try Lisa Lombardini's tasty chocolate chip banana bread.
Makes: 1 loaf (about 8-10 slices)
Prep time: 10 minutes
Cook time: 1 hour and 15 mins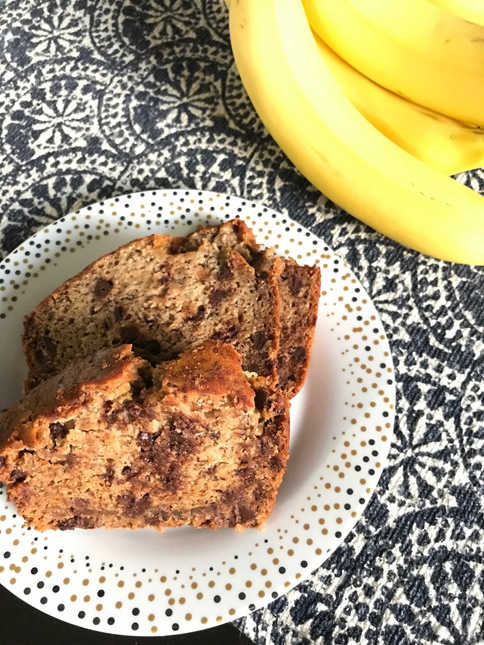 Ingredients:
1/3 cup vegetable oil
1/2 cup honey or maple syrup (I used ¼ cup of each!)
2 eggs (or 2 flax eggs, see notes below)
3 medium ripe bananas, mashed
1/4 cup milk
1 teaspoon vanilla extract
1 teaspoon baking soda
1/2 teaspoon salt
1/2 teaspoon ground cinnamon, plus more for topping
1 ¾ cup flour
1/2 cup chocolate chips (I used mini)
Instructions:
Heat oven to 325 F, grease a 9×5 inch loaf pan.
In a large bowl, beat oil, honey, and eggs together with a whisk. Mix in mashed bananas and milk.
Add baking soda, vanilla, salt, and cinnamon, blending together well. Using a large spoon, stir in flour until just combined. Add chocolate chips and mix in well.
Pour batter into loaf pan and sprinkle cinnamon on top. Bake for 1 hour 15 minutes or until a toothpick inserted in the center comes out clean.
Notes:
To make 2 flax eggs, add 2 tbsp GROUND flaxseed to 1/3 cup warm water in a small bowl. Let sit for 5 minutes to become gel-like.
Any mix-ins work in this recipe – replace chocolate chips with chopped nuts, dried fruit, etc.
This freezes well! Just freeze slices individually in freezer-safe bags.
Recipe Adapted From: Cookie and Kate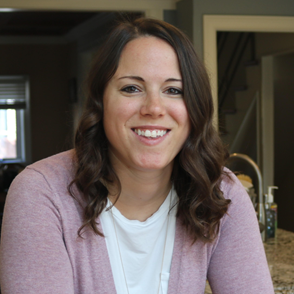 Lisa Lombardini, MS, RD, LDN is a weight-neutral registered dietitian currently working in both clinical and private practice settings in the Worcester area. She has a master's degree in food and nutrition and has worked as a dietitian for over two years. She loves meeting new people and talking about food, nutrition, body image, and more at her private practice, Full Permission Nutrition. Fun facts – her favorite food is beef stroganoff, she loves anything s'mores, and she is always up for trying new foods.
---
Do you want to contribute to the MAND Blog?
Consider writing your own feature article and send your submission to Sierra Parker and Dana Steinmetz, editors of Today@MAND: newsletter@eatrightma.org.
We just ask that it is less than 500 words, and you please submit a photo with a short personal biography to include with the post.