What did you cook this week? I enjoyed some amazing hummus and even a picnic after a long bike ride. As April comes to a close, we hope you enjoy reading a feature of an amazing dietetic intern. Keep scrolling to the bottom for some speaker series.
A Middle-Eastern Experience in the Western World
As the old saying goes, you can take a girl out of the Middle East, but you can't take the Middle East out of the girl. I was only a few months old when my mother and I moved to the US to live with my father. Growing up, I didn't realize how lucky I was to be the daughter of a Lebanese chef. I remember almost every night growing up, and still now, my mother would take her time in the kitchen, dice the tomatoes, parsley and onions perfectly and expertly season her fish and meat to throw into the oven. I grew up in a small neighborhood in Vermont and did not understand the differences between dinner time cultures as I did not have much to compare it to.
In my culture, it is tradition to have dinner together with your family every night. Typically, it is the women of the house who cook the meal, however, that tradition may be changing in the more recent years. Sure, there would be the occasional pizza or takeout here and there, but Mediterranean food reigned supreme in our household.
I remember sitting at the kitchen table, watching my mother effortlessly cook such divine meals. The aroma itself was incredible. Garlic, lemons, onions and allspice filled the air. While some dishes would require merely 30 minutes, others would take hours. My favorite dish to this day is known as "Warak Arish" (similar to the Greek dolma). Carefully, with her loving hands, my mother would take the pickled grape leaves out of the jar, rinse them, and then stuff them with a variety of assortments, including rice, pine nuts, parsley, tomatoes, olive oil, salt, etc. We would have these on special occasions, such as on birthdays or during holidays. What's astonishing is that nearly every country in the Middle East has their own version of the same meals. Whereas Turkey might cook their bulgur and rice in one way, Syria might do it another. It has come to delightfully surprise me that several of our classic dishes are now known to many in the West as the "Mediterranean diet".
Like many other cultures, one of the custom traditions is to make coffee in the morning and when guests come over. Turkish coffee, similar to a cup of espresso, is made in an open- faced kettle. I remember watching my mother boil the water and add what seemed to be heaping spoonfuls of the ground coffee to the water. It is meant to be sipped slowly and through conversation. It is rare, if ever, to encounter any Lebanese household without one of these kettles in their cupboard. Lebanese culture is warm and embracing and we demonstrate our love and compassion through the act of cooking and eating. Gathering around the table for food, coffee and conversation plays a beautiful and critical role in the upbringing of many in the Middle East and has come to help form my own Arab-American path to this day.
Reem Bou-Nacklie is currently working as a Sodexo Dietetic Intern, with a culinary concentration, in Massachusetts. She is a recent graduate of the University of Vermont, with a major in Dietetics, Nutrition and Food Science and a minor in Food Systems. She plans on returning to the University of Vermont in Fall, 2021, for a Master's degree in Nutrition and Food Sciences. She moved to Vermont when she was a few months old and has been living there for over 20 years. She recently moved to MA this past fall for a chance to live in the city and experience new things. She has a love for food and traveling and has been to places, such as Lebanon, Puerto Rico, France, Sweden, and Kenya. She believes everyone has the right to food. She wants to dedicate her life towards ensuring food security and teaching those about the wonders of food and how they can incorporate these teachings into their daily lives. It is her goal to incorporate her beliefs into her future career and to work with her local and global community members.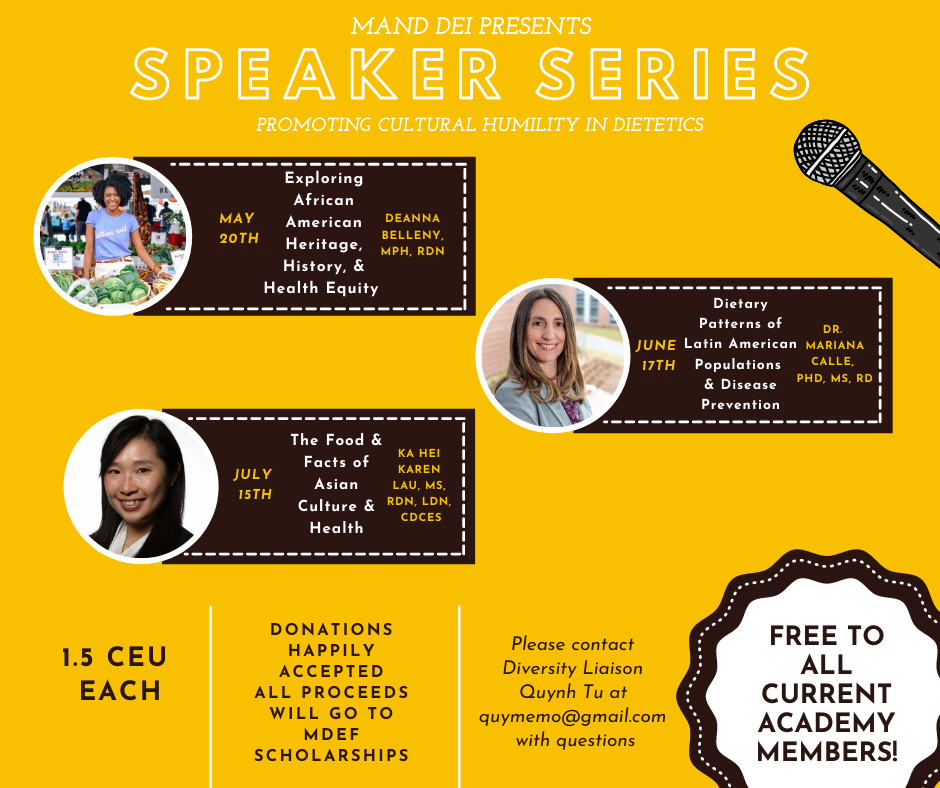 ---
MAND Blog
Have you thought about posting to the blog, but don't know what you could contribute?
At MAND we welcome anything from recipes, your personal update, interesting research articles (almost a mini lit review), pictures from events, podcasts people have been listening to, etc. Just include any resources. Make sure to include your very favorite photo!
Send us an email: newsletter@eatrightma.org.