Food For Mood
By Jody Bergeron, RN, BSN, MS, CEN
One major lifestyle change that has the power to reduce symptoms of depression and or anxiety as these two are closely intertwined is dietary pattern modifications.  Have you ever heard of the antidepressant food score (AFS)?  A recent study in the World Journal of Psychiatry looked at specific antidepressant nutrients that can quell inflammation that contributes to depression.  The AFS identifies the most nutrient- dense foods to prevent and promote recovery from depressive disorders or symptoms. 
The following 12 nutrients were identified: 
Folate
Iron
Omega-3 Fatty Acids (EPA, DHA)
Magnesium
Potassium
Selenium
Thiamine
Vitamin A
Vitamin B6
Vitamin B12
Vitamin C
Zinc 
---
Nutrients and the Brain Derived Neurotropic Factor
Omega-3 fatty acids, zinc, magnesium, and other phytonutrients promote the expression of Brain Derived Neurotropic Factor (BDNF) and thus influence neuroplasticity and can improve mood. Neuroplasticity is the ability of the brain to form new connections and pathways and change how its circuits connect and communicate.
The three main omega-3 fatty acids are ALA (alpha-linolenic acid) EPA (eicosapentaenoic acid) and DHA (docosahexaenoic acid).

EPA and DHA are long-chain omega-3 polyunsaturated fatty acids which are abundant in fatty fish (salmon, tuna, sardines, mackerel and herring), shellfish, and some algae.
Some of the top antidepressant foods listed in the study included oysters, clams and mussels that can provide up to 250mg of EPA and DHA.
ALA is found in flaxseed, walnuts, chia seeds, soybean and canola oils.
Supplementation options: a 1000mg fish oil supplement provides 180 mg EPA and 120mg DHA. Bonus: Cod liver oil contains vitamin A and D as well. It is best to check with your primary health provider to individualize your supplement dosage for your needs.
Microbiome and Brain Health
The microbiome or gut flora is also implicated in brain health and hence mental well-being. Almost 90% of serotonin is produced in the gastrointestinal tract. Foods rich in prebiotics, probiotics and fiber can support our microbiome and a high AFS score. The Academy of Nutrition and Dietetics recommends 25 grams for women and 38 grams for men. The Mediterranean Dietary pattern also focuses on many of the recommended antidepressant foods and it is one of the top recommended diets according to US News and World Reports.
Some of the top fiber containing vegetables:
Watercress
Spinach
Swiss chard
Pummelo
Peppers
Fresh herbs (cilantro, basil, parsley)
Limiting refined carbohydrates, processed foods and highly sweetened foods will certainly help with our mind's wellbeing. To decrease blood sugar spikes one should focus on including high-quality carbohydrates and foods rich in soluble fiber.
Foods rich in soluble fiber:
Flaxseeds
Oats
Barley
Apples
Pears
Sweet potatoes
Peas
Beans
Serotonin and Vitamin D
Don't forget about the sunshine vitamin D. Vitamin D may increase levels of serotonin in the brain. Vitamin D receptors are present on neurons and glia in areas of the brain thought to be involved in the pathophysiology of depression. The RDA of Vitamin D is 600IU (International Units) per day for adults. It is recommended to maintain Vitamin D levels ≥50nmol/L or ≥20ng/ml for bone health and overall wellness. According to the Endocrine Society in order to maintain these levels adults may need (1,500–2,000 IU)/day of supplemental vitamin D.
Sources of Vitamin D include:
Fish with bones like canned salmon
Mushrooms exposed to UV light
Milk
Fortified soy milk and other fortified food and beverages
Egg yolks
Folate and vitamin B12 may influence mood by playing a role in serotonin production. Studies have shown that low blood levels of these vitamins are sometimes related to depression.
Folate rich foods include:
Beef liver
Spinach
Lentils
Black eyes peas
Asparagus
Brussel sprouts
Wheat germ
Papaya
Vitamin B12 foods include:
Clams
Beef liver
Rainbow trout
Salmon
Canned tuna
Fortified nutritional yeast
Stimulants and Mood
Limiting intake of excess stimulants like coffee, chocolate, tea, and energy drinks will help with anxiety/mood too. They only deliver a quick energy surge. The energy boost you may feel is usually short-lived. Additionally, many commercial energy drinks are loaded with added sugar and can be quite calorie-laden and have been linked to heart related issues. Better alternatives to help with a bad mood are hydration, exercise, socialization, meditation and sleep.
As always, reach out to your dietitian for help planning meals and selecting the right foods for you.
References:
Anglin RE, Samaan Z, Walter SD, McDonald SD. Vitamin D deficiency and depression in adults: systematic review and meta-analysis. Br J Psychiatry. 2013 Feb;202:100-7. doi: 10.1192/bjp.bp.111.106666. PMID: 23377209.
LaChance LR, Ramsey D. Antidepressant foods: An evidence-based nutrient profiling system for depression. World J Psychiatry. 2018 Sep 20;8(3):97-104. doi: 10.5498/wjp.v8.i3.97. PMID: 30254980; PMCID: PMC6147775.
Jody Bergeron, RN, BSN, MS, CEN, works in critical care for Cape Cod Healthcare. She obtained her Masters in Human Nutrition from the University of Bridgeport and was enrolled at the University of Alabama's College of Human Environmental Sciences Online Dietetics program. She has 30 years of experience working in healthcare with the past 20 years in critical care nursing. She served 9 years in the Army Reserve as a military officer in a Combat Support Hospital as a critical care RN. During her service she was in charge of the weight control program. She currently has interests in phytonutrient research, disease prevention with a focus on heart and brain health and healthy aging. She enjoys time with her family, skiing, scuba diving, traveling, knitting, cooking/baking/recipe development, and sharing science based nutrition information on social media and food photography. Instagram: @jody_bergeron Twitter: @BergeronJodyA
---
MSDA Feature: Alexis Anderson
By Alexis Anderson
I am a lover of food and all things nutrition. I am in the final year of my combined Masters in Nutrition and Dietetic Internship, with hopes to be a certified Registered Dietitian in just a handful of months.
Growing up, my parents emphasized the importance of cooking and eating together as a family. Gathering around the dinner table to share a home-cooked meal and conversation taught me how food strengthens relationships.
My relationship with food changed when I was diagnosed with celiac disease, an autoimmune disorder where ingestion of gluten causes damage to the small intestine. The only treatment for celiac disease is to follow a strict, gluten-free diet. Following a strict gluten-free diet is challenging. But having celiac disease has only made me more passionate about cooking and baking. I love experimenting with different gluten-free flours and trying my hand at making traditionally gluten-full foods.
I recently decided to combine my love for cooking and baking with my love for food photography by creating an Instagram account (@lexmatia). Ultimately, I would love to publish a cookbook with some of my favorite creations. My mission is to dispel the myth that gluten-free food is dry, bland, crumbly, etc, because it does not have to be.
Here is a simple recipe for gluten-free Tahini Blondies. Feel free to substitute my specific blend of flours with one of several pre-made gluten-free flour blends available at most grocery stores. If you don't need to follow a gluten-free diet, feel free to use all-purpose flour or whatever you have on hand.
Tahini Blondies Makes 16 blondies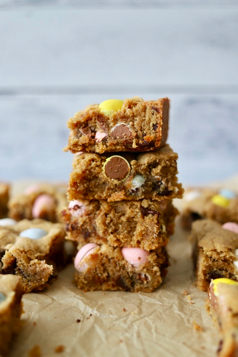 Ingredients:
½ cup white rice flour
½ cup brown rice flour
¼ cup potato starch
¼ cup almond flour
1 tsp baking powder
½ tsp xanthan gum
½ tsp salt
¾ cup tahini
¼ cup butter, softened
1 cup brown sugar
2 large eggs, beaten
2 tsp vanilla
1 cup dark chocolate chips
Instructions
Preheat oven to 350 degrees Fahrenheit. Grease and line a 9×9" pan with parchment paper to prevent sticking. Set aside.
In a medium bowl, whisk together the dry ingredients – flour through salt.
In the bowl of your stand mixer, beat together the wet ingredients – tahini through vanilla.
Combine the two mixture, then fold in the dark chocolate chips.
Pour the batter into the prepared pan, spreading evenly.
Bake for 30 minutes, or until the edges are slightly golden. Allow the blondies to cool in the pan on a wire rack.
Cut into 16 bars and enjoy!
Follow @lexmatia on Instagram for more! Have questions on the gluten-free diet? Message me on Instagram or email me at lexmatia@gmail.com.
---
MAND Blog
Have you thought about posting to the blog, but don't know what you could contribute?
At MAND we welcome anything from recipes, your personal update, interesting research articles (almost a mini lit review), pictures from events, podcasts people have been listening to, etc. Just include any resources. Make sure to include your very favorite photo!
Send us an email: newsletter@eatrightma.org.
Please note we check this email about 1-2 times each week. We receive many submissions, but will do our best to reply to each request.
Disclaimer of Liability: The Massachusetts Academy of Nutrition and Dietetics' Blog strives to provide evidence-based nutrition information. Nothing on this website, its associated blog, or any social media channels should be considered advice or diagnosis. The content is for educational purposes only and not a substitute for personal, professional medical care or diagnosis. MAND does not endorse any products or services mentioned. You are urged to consult your primary care provider regarding any health condition or issue. MAND is not responsible for the content or claims of third party websites or providers.