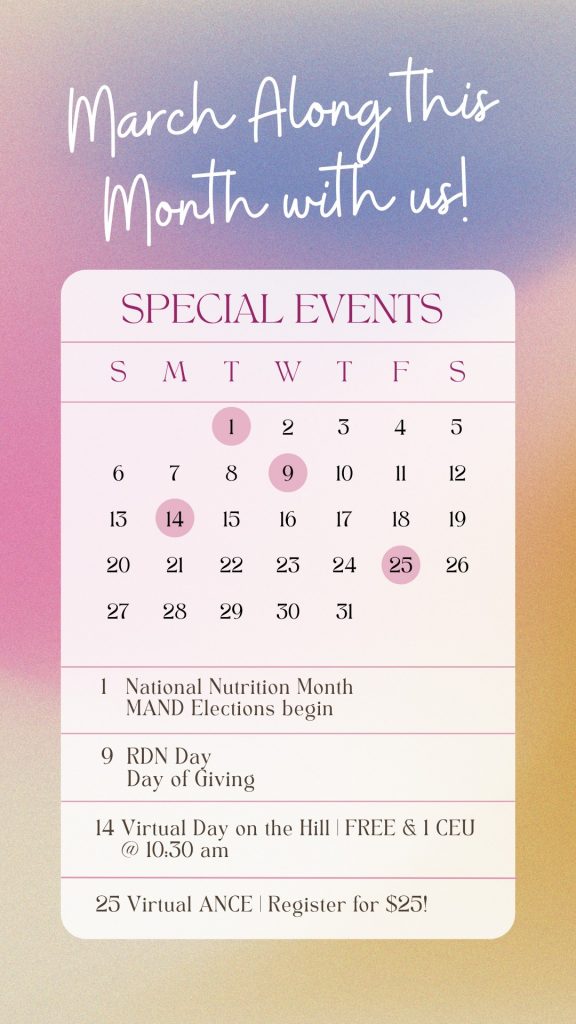 Keep an eye out for these events this month- There are so many exciting and important things happening in the coming weeks!

MAND Board Elections Open – March 1st through the 31st
Annual voting for new MAND Board of Directors is live! Please go to this page and log in to vote: https://lnkd.in/eqv-m-Mq
March 9: Our second annual "Day of Giving" to raise money for MDEF (Massachusetts Dietetic Education Foundation) To donate, you can VENMO @mdef-mass or send a check to MAND PO Box 68, Medway MA 02053. If each MAND member donates $10, we could raise over $20,000 in scholarships! Our goal is to have 50% of our members donate at least $10.00.
March 14: Day on the Hill; 11:30am-1:00pm, click here to register and earn 1 CPEU for attending: https://lnkd.in/eQyZTbAX
March 25: Our second virtual ANCE from 8:15am to 1:30pm ~ click here to register for only $25 and earn up to 8 CPEUs:https://lnkd.in/eUK_2uAe